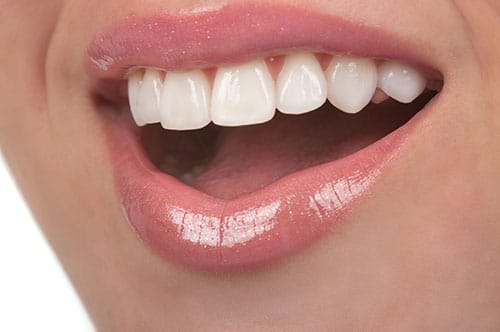 These are thin plates of porcelain that are shaped in the form of natural teeth, and are used in many different instances. They can be used to eliminate spaces between teeth, or to give a more natural and even appearance to teeth that are crowded together. In some cases, where a person's teeth are stained in a way that whitening cannot eliminate, veneers can also be used to give a more naturally white appearance, by covering the stained outer tooth structure. Porcelain will not break down or stain like natural teeth potentially can. It has been shown that even years later, with proper maintenance, your new smile will look just as great as it did the day the veneers were inserted. Veneers require little or no tooth preparation: they utilize the existing enamel on the tooth for a proper bond, and work best when the amount of tooth reduction is moderate or minimal, as the bond to enamel is greater than that which can be made with dentin (the middle layer of the tooth). Veneers are made to look like natural teeth, and shaped as your teeth should appear. To create a proper shape for any tooth (or teeth), a diagnostic wax-up model is made ahead of time, which allows the recipient to visualize what their smile will look like ahead of time, as well as to indicate if and where any modifications need to be made anywhere else in the mouth in order to achieve the best possible result. Furthermore, every veneer case that Dr. Trotti completes at Albion Dental Office is custom shaded and stained by a dental laboratory technician, to ensure that the teeth look as life-like and vibrant as they should, as well as to create a smile that will last and look amazing!
When having veneers placed, the teeth are prepared and impressions are taken afterwards. Temporary veneers are placed (usually made from composite resin that matches the natural shade of the teeth) until the custom veneers are ready for try-in and custom shading and staining. After a visit to the dental laboratory where the customization of the veneers is completed, the patient will return to the dental office where the custom veneers are then bonded to the teeth. Veneers are individually made and customized by our dental laboratory, which is vital to creating a unique and vibrant smile! As long as you maintain your oral health as instructed by your dentist and hygienist, which includes coming regularly for dental hygiene visits, flossing and brushing regularly, your veneers will be part of your smile for a long time. Porcelain veneers do need some special care: they aren't suitable for people who grind their teeth or have issues with their bite, particularly when their front teeth bite end-to-end. They can fracture if a person chews on hard things like a pen cap, nails or other hard materials and they need thorough oral home care to stay looking as good as when they were first placed.
If you are interested in changing your smile with veneers, schedule a consult at Albion Dental Office by calling (416) 749-9732, and Dr. Trotti will be happy to speak with you about it.